SAFER: SERVICES AND APPLICATIONS FOR EMERGENCY SUPPORT

COMMISSION OF THE EUROPEAN COMMUNITIES, DG ENTERPRISE, FP7-2007-SPACE-1/ GMES COLLABORATIVE PROJECT, Contract No: ITF-AJ-0053-07

2009-2011

128.000 EUR (NOA Budget)

The project was supported financially by the European Commission. It consists a precursor action for specifying the methodology and validating the services which are available today through the operational pillar of Copernicus EMS, with the engagement of the Center of Excellence BEYOND.
The project has been conducted in the framework of the flagship Global Monitoring for Environment and Security (GMES) currently known as Copernicus program. It consisted the biggest synergetic operational action that run at European level, engaging more than 50 partners such as Space Agencies, Research and Private Sector entities acting in the Emergency Response sector all over Europe. It generated the roadmap for the development of the operational Emergency Management Services (EMS) pillar for Emergency Support and Emergency Response. The SAFER project delivered services in real time (rush mode) during the crisis, as well as off-line detailed assessments of the damages in the affected by the disasters areas. The research team of NOA delivered Emergency Services that supported the decision making processes in a number of institutional authorities of Greece including the: a) the General Directorate for the Protection of Forests and Natural Ecosystems - Hellenic Ministry of Agriculture, b) the General Secretariat of Civil Protection, c) Forestry services over Greece, d) the National Agriculture Research Foundation, etc. The services included: 1. early warning in cases of fire events and routine monitoring of the fires' propagation every 5 minutes over Greece. 2. Rapid mapping (rush mode) at high and very high spatial resolution. 3. Seasonal detailed mapping of the damages in the affected areas at the end of the fire season for entire Greece.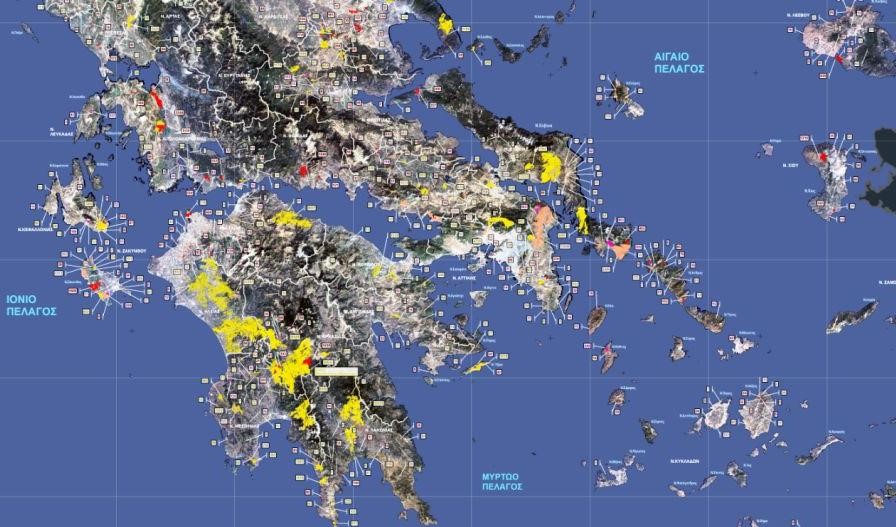 The project relied on the research outcomes of RISK-EOS (see description above) and developed new research and methodologies for exploiting new generations of satellite systems and enhancing innovative data modelling techniques for deriving accurate assessments of disasters. The results of the project have been published in peer reviewed publications in journals and scientific conferences.