LinkER: GMES EMERGENCY – SUPPORTING THE IMPLEMENTATION OF AN OPERATIONAL GLOBAL MONITORING FOR ENVIRONMENT AND SECURITY SERVICE IN THE FIELD OF EMERGENCY MANAGEMENT

COMMISSION OF THE EUROPEAN COMMUNITIES, DG ENTERPRISE, INVITATION TO TENDER NO: ENTR/08/028

2009-2011

126.000 EUR (NOA Budget)

The project was supported financially by the European Commission. It consists a precursor action for specifying the methodology and validating the services which are available today through the operational pillar of Copernicus EMS, with the engagement of the Center of Excellence BEYOND.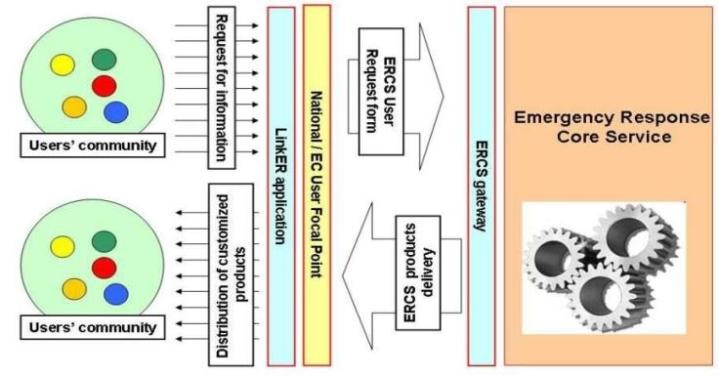 The project generated the roadmap and established protocols towards activating the two pillars of Copernicus for Emergency Management Services (EMS), namely (a) Emergency Response (Rapid Mapping), (b) Emergency Support (Risk Assessment and Recovery). The project LinkER achieved three goals:
1. Identified and nominated in each country an organization (that is the Central Civil Protection Authority) acting as a focal point authorized to activate Copernicus EMS. The role of the focal point is also to receive the (SAFER standardized) Emergency Response and Emergency Support services/products, and deliver them at national level to the authorized users and decision makers to support disaster management operations. 2. Installed and put in full operation at the premises of the focal points the proper computer and networking infrastructures to facilitate the activation process and ensure timely reception of the delivered Emergency services. 3. Conducted capacity building for training the focal points on how to use the established procedures and installed technical infrastructure. The research team of NOA undertook the implementation of the above actions in three EU countries which were Greece, Cyprus, and Bulgaria. It offered consultation and support to the involved civil protection authorities so as to ensure the timely activation, and unhindered reception of the services for Emergency Response and Emergency Support. In addition, through the LinkER project, the research team of NOA offered Emergency services to the institutional authorities of Greece such as the General Directorate for the Protection of Forests and Natural Ecosystems - Hellenic Ministry of Agriculture, the General Secretariat of Civil Protection, the Forestry services over Greece, the National Agriculture Research Foundation, etc.