The projectt MASSIVE is precursor action specifying fundamental components of the integrated GeoHub system of the BEYOND Centre of Excellence.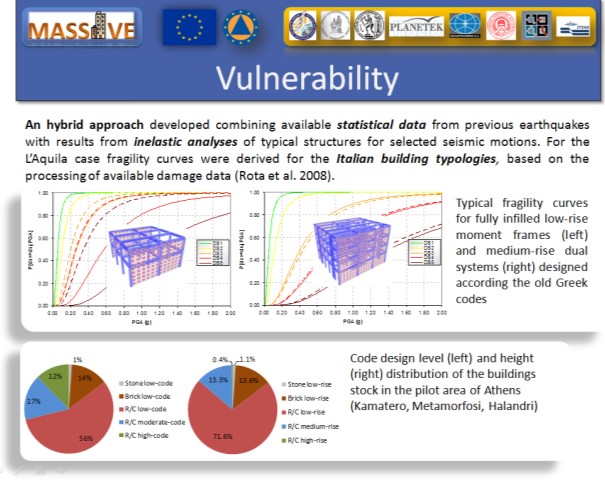 The project was funded by the EU Civil Protection and Humanitarian Aid Operations Unit. It integrated skills from the Earth Observation and Earthquake (EQ) sectors. The project conducted research and developed an information/training system in support to actions for effective preparedness and EQ damage assessment in urban zones. Two Central Civil Protection Authorities of Greece and Italy, have benefited from the outcomes of the research study. The MASSIVE information/training system was developed using know how and validation data from the two major catastrophic EQ events, that occurred in (a) Athens (Greece) 1999, and (b) L' Aquila (Italy) 2009. In the framework of MASSIVE, advanced image processing techniques and algorithms have been developed, exploiting diachronic acquisitions of very high resolution satellite data for assessing socio-economic and built environment parameters. Moreover, the project advanced research topics and developed a methodology to update the existing knowledge on seismic hazard, vulnerability, risk and damage assessment in the regions of Greater Athens (Greece), and Abruzzo (Italy). The methodology relied on the use of historic data and knowhow from the two region, in regards to geology and earthquake characteristics, and invoked modeling solutions for a variety of earthquake scenarios so as to derive reliable assessments with expected damages and mitigation measures.
The project delivered an integrated information and user training system, the so-called MASSIVE system, to the Civil Protection Authorities of Greece and Italy.