3HAZ-CORINTH: EARTHQUAKES, TSUNAMIS AND LANDSLIDES IN THE CORINTH RIFT, GREECE. A MULTIDISCIPLINARY APPROACH FOR MEASURING, MODELLING AND PREDICTING THEIR TRIGGERING MODES AND THEIR EFFECTS

COMMISSION OF THE EUROPEAN COMMUNITIES, FP6, PRIORITY 1.1.6.3, GLOBAL CHANGE AND ECOSYSTEM

GA : 004043

2005-2007

34.000 EUR (NOA Budget)/1.499.990 EUR (Overall Budget)

The project 3HAZ-CORINTH allowed the diachronic large scale assessment of tectonic movements in the Golf of Corinth, through the synergetic use of different monitoring networks deployed on the ground, on the sea, and from space.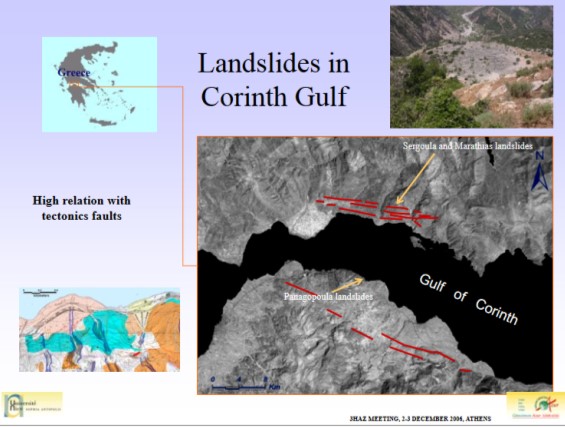 A detailed mapping of the tectonic faults on the ground and under the sea was conducted. The derived maps were correlated with seismic data, systematically recorder by the deployed networks. The research team of NOA conducted a diachronic analysis of SAR imagery, using Permanent Scattered Interferometric Processing Technique, to estimate the small scale velocities of surface movement, induced by the active tectonic behavior of the region.
The study processed tenths of SAR images from sensors as ERS1&2 και ENVISAT extending over a period of 15 years. It was also developed a prototype software for the diachronic analysis of the PS modelled surface velocities, the so-called PERSHEPHONE SW. The results of the study were presented in publications in journals and scientific conferences. To be noted that the PS based velocity assessments in the Golf of Corinth area, were not available before running the 3HAZ-CORINTH project, due to the lack of appropriate technology, SAR processing skills, and systematic DGPS measurements over the years.