1. SARPerS: DETECTION OF ACTIVE SMALL-SCALE DEFORMATION IN GREECE USING MULTITEMPORAL INSAR AND PERMANENT SCATTERERS TECHNIQUES.

2. STUDY OF THE VOLCANIC ACTIVITY IN NISYROS ISLAND (AEGEAN SEA) BASED ON RADAR INTERFEROMETRY

EUROPEAN SPACE AGENCY-ESRIN, OPPORTUNITY ANNOUNCEMENT FOR ERS 1/2 AND/OR ENVISAT

CONTRACT NUMBER: ΑΟ 1489

2000-2010

Precursor activity that paved the development of research and core services included in GeoHub system of the BEYOND Center of Excellence.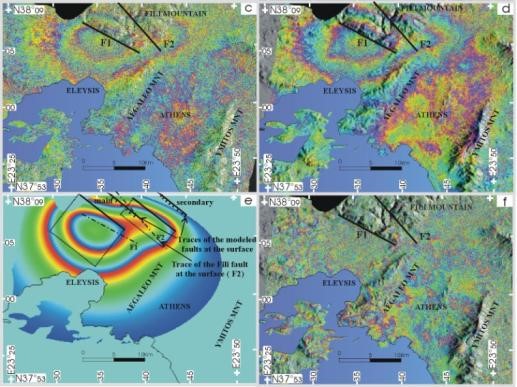 The SARPerS project was supported by the European Space Agency (ESA). It ensured the uninterrupted provision of satellite data ERS1 & 2 and ENVISAT, as well as the advancement of research in SAR data differential interferometric processing. The main objective was the calculation of permanent scatterers in the wider areas of the Golf of Corinth and Athens.
The estimation of precursor seismic phenomena, the monitoring of tectonic movements nearby fault zones, and the assessment of surface deformation fields especially due to the intense construction activity in the greater area of Athens, were the main results of the research. The unhindered access to the SAR satellite data supported a series of studies carried out in the framework of M.Sc/Ph.D. theses in collaboration with the Higher Geodesy Laboratory of the NTUA. The project resulted in a number of scientific papers and publications in conferences.
The project "Study of the Volcanic Activity in NISYROS Island (Aegean Sea)" was supported by the European Space Agency (ESA), allowing uninterrupted and unrestricted access to RADAR SAR data from ERS1/2 satellite missions, as well as the use of differential interferometric methods for the monitoring and mapping of tectonic micro-movements (class> 2.5 cm) in Greece, due to volcanic and seismic activity. The project allowed the calculation of the fault parameters of the catastrophic earthquake in Athens (September 1999), as well as the characteristics of volcanic activity in Nisyros. It also reinforced and supplemented the relevant state-of-the-art research existing at the time, in relation to these two geodynamic phenomena. The results of the research on the 1999 Athens earthquake, and the study on the unrest of the Nisyros volcano (unrest period 1995-1997), were presented in several conferences and scientific journals. The studies have been cited to a large number of third party publications. The study concerning the Athens earthquake concluded that the seismic event was due to an unknown until the moment fault segment which was located in the mountain of Fylis in Parnitha.
Research through inversion modeling techniques gave the characteristics of the earthquake parameters that triggered the catastrophic event.