ACRIΤAS: ADVANCED COORDINATION CENTER INFORMATION TECHNOLOGIES & APPLICATIONS FOR BORDER SECURITY

GENERAL SECRETARIAT OF RESEARCH AND TECHNOLOGY (GSRT), OPERATIONAL PROGRAM FOR «COMPETITIVENESS & ENTERPRENEURSHIP» «COOPERATION 2011»

2013-2016 , GA : 11ΣΥΝ-9-1207

131.095 EUR (NOA Budget)/1.320.547 EUR (Overall Budget)

URL: http://www.kemea.gr/en/research/research-programmes/136-national-programmes

ACRITAS effectively responded to the development of an integrated border control system, applicable to land and sea borders. It provided rapid deployment to harsh and isolated environments providing multifunctional surveillance capabilities, intelligent data products and innovative services to regional and national authorities for boarder control. It developed innovative and modular environment for addressing major issues faced by the Greece's authorities as: illegal immigration, smuggling, trafficking and proliferation of dangerous materials (CBRN). Scalability, mobility and adaptability were considered to be the most important features of the system. ACRITAS functions as a stand-alone mobile Regional Coordination Centre (RCC) and/or in cooperation with the National Coordination Centre (NCC).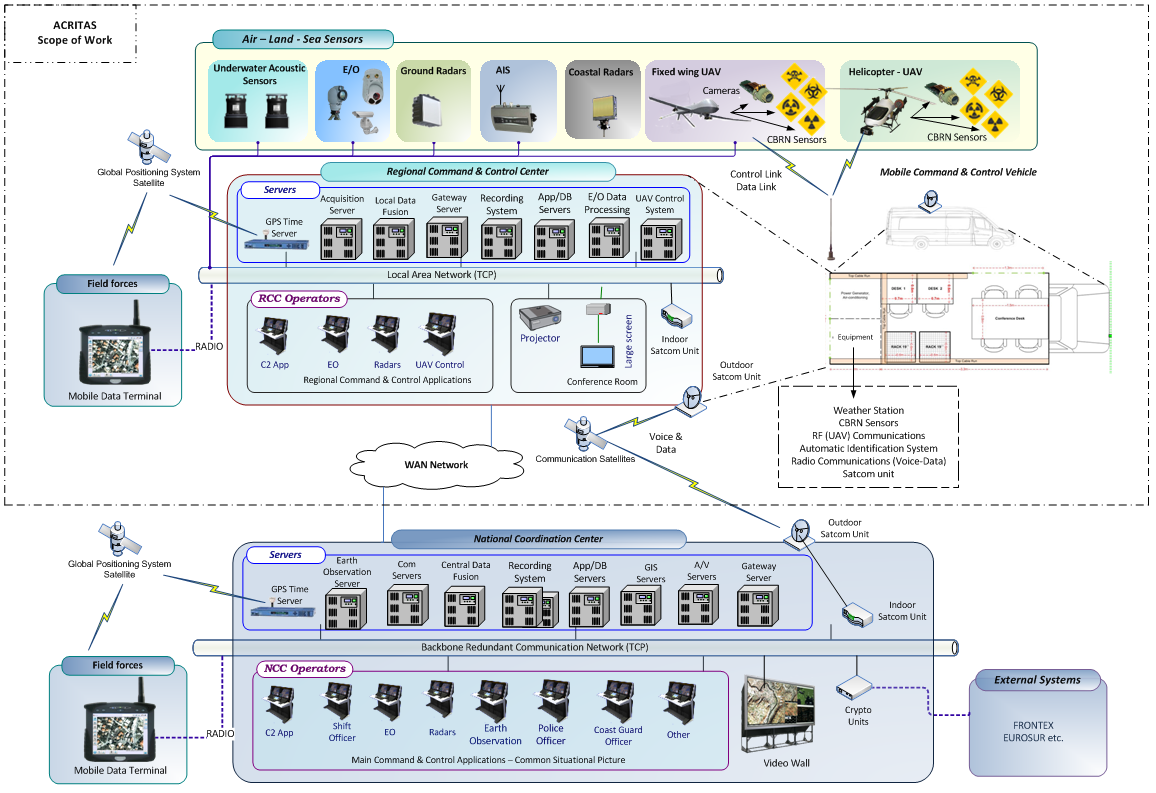 The BEYOND research team coordinated the work and undertook the development of models and algorithms that allow the simultaneous exploitation of multiple surveillance sources such as aerial platforms (UAV, Drones), ground sensors (infrared, acoustic, hydrophones) and radar sensors. Innovative tools for border surveillance services have been developed, allowing for a seamless and timely geographical representation of the situation (on the ground and on the surface of the sea). It is possible to couple multiple imaging and other data in order to identify targets and to detect sudden changes in areas of high operational value. Data flows feed an event management and complex data processing system to automatically export and send alarms. With regard to the terrestrial environment, advanced visual vision and image processing algorithms have been developed that compare real-time historical satellite high-spatial satellite take-ups with UAV shots and make robust conclusions and identify any significant unexpected changes occurring along land borders. With regard to maritime borders, a signal processing methodology has been developed, and made possible to locate seagoing waterborne motion from signals recorded by hydrophone networks. The signal waveform analysis, the time delays in signal acquisition, the cross-correlation of signals, and their comparison with known waveforms of particular types of engines, provided the ability to identify the locations and the moving direction of the sea vehicles. The results of the project were subject of relevant scientific publications.