RISK-EOS: PROMOTION OF THE GSE RISK-EOS FIRE SERVICES PORTFOLIO IN GREECE -PRODUCTION AND DELIVERY OF SEASONAL BURN SCARS MAPPING (BSM) PRODUCTS (PHASE 2 & 3)

ESA - SERVICE CONSOLIDATION ACTIONS OF EARTHWATCH GMES SERVICES ELEMENTS, ESA/GSE PROGRAM, Contract No: ITF-AJ-0053-07

2007-2008

310.000 EUR (NOA Budget)

The project was supported financially by the European Space Agency (ESA). It consists a precursor action for specifying the methodology and validating the services which are available today through the operational pillar of Copernicus EMS, with the engagement of the Center of Excellence BEYOND.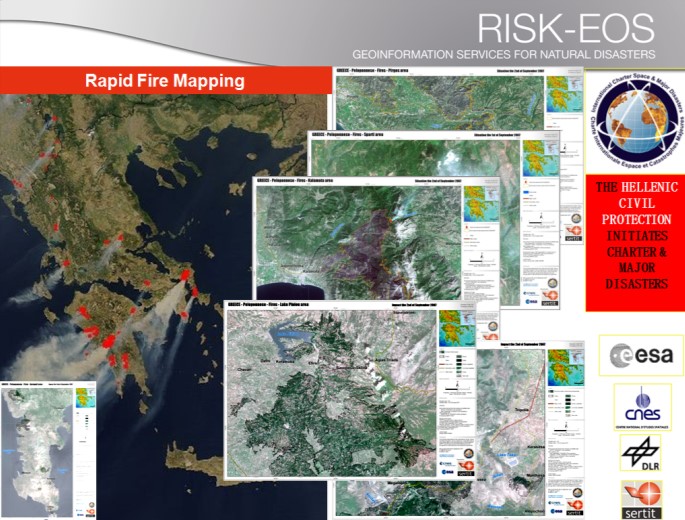 The project constitutes the extension in Greece of the operational program, which relied on the satellite detection for the routine monitoring, mapping, and assessment of natural disasters over Europe in (a) real time, and (b) seasonal basis. The research team of NOA developed a methodology for rapid mapping of burned areas and the assessment of damages in the affected zones. It exploited multi-spectral satellite data of high and very high spatial resolution e.g. Landsat TM, SPOT XS, as well as FORMOSAT-2, και IKONOS. The project gave for the first time a standardized and operational mapping of the burned areas over the entire country. Only in the year of 2007, during the very devastating summer fires, a detailed mapping of burned areas was conducted for a total of 193.656 ha at a spatial resolution of 2 to 30 meters on the ground. The project served a big number of institutional stakeholders in Greek such as Civil Protection and Forestry Services across Greece, the Directorate for the Protection of Forests and Natural Ecosystems of the Ministry of Agriculture, etc. It has been delivered a rich portfolio of services and mapping products of high precision and accuracy. Moreover, during the devastating fire season of 2007, the project activated the rapid mapping service over the region of Peloponnese and mapped in rush mode every fire event in various spatial resolutions.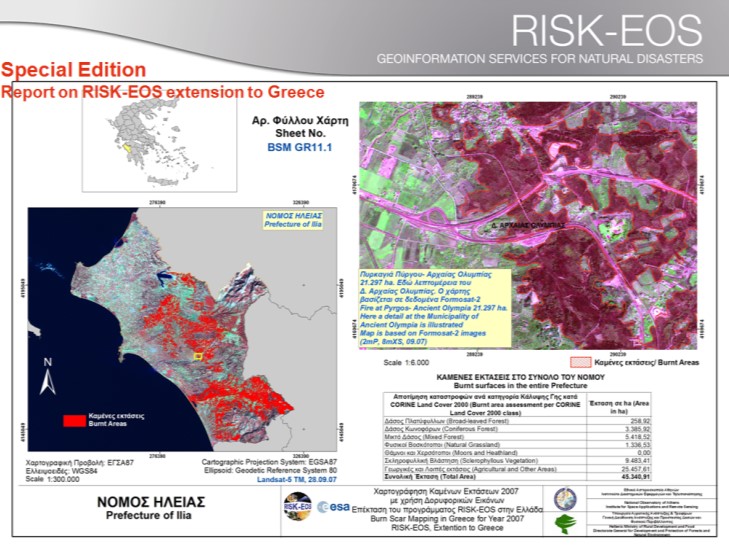 In the framework of the project an advanced and prototype research was conducted by the NOA research team towards the automatic mapping of burn scars on multi-temporal sets of satellite data from any available satellite system. Dedicated models and classification algorithms were developed adapted to Greek landscape and natural ecosystems using any type of satellite data. The developed methodology was tested and validated in the context of operational applications and returned results of high accuracy. A number of scientific publications were derived based on the developed research and methodological tools. Moreover, a bilingual special issue was created in collaboration with the Ministry of Agriculture, which was devoted to the devastating fires of 2007, entitled "Assessment of 2007 burnt areas in Greece using satellite data - Reference year: 2007, Satellite data: Landsat 5 TM, SPOT XS, FORMOSAT 2 (P+XS)".