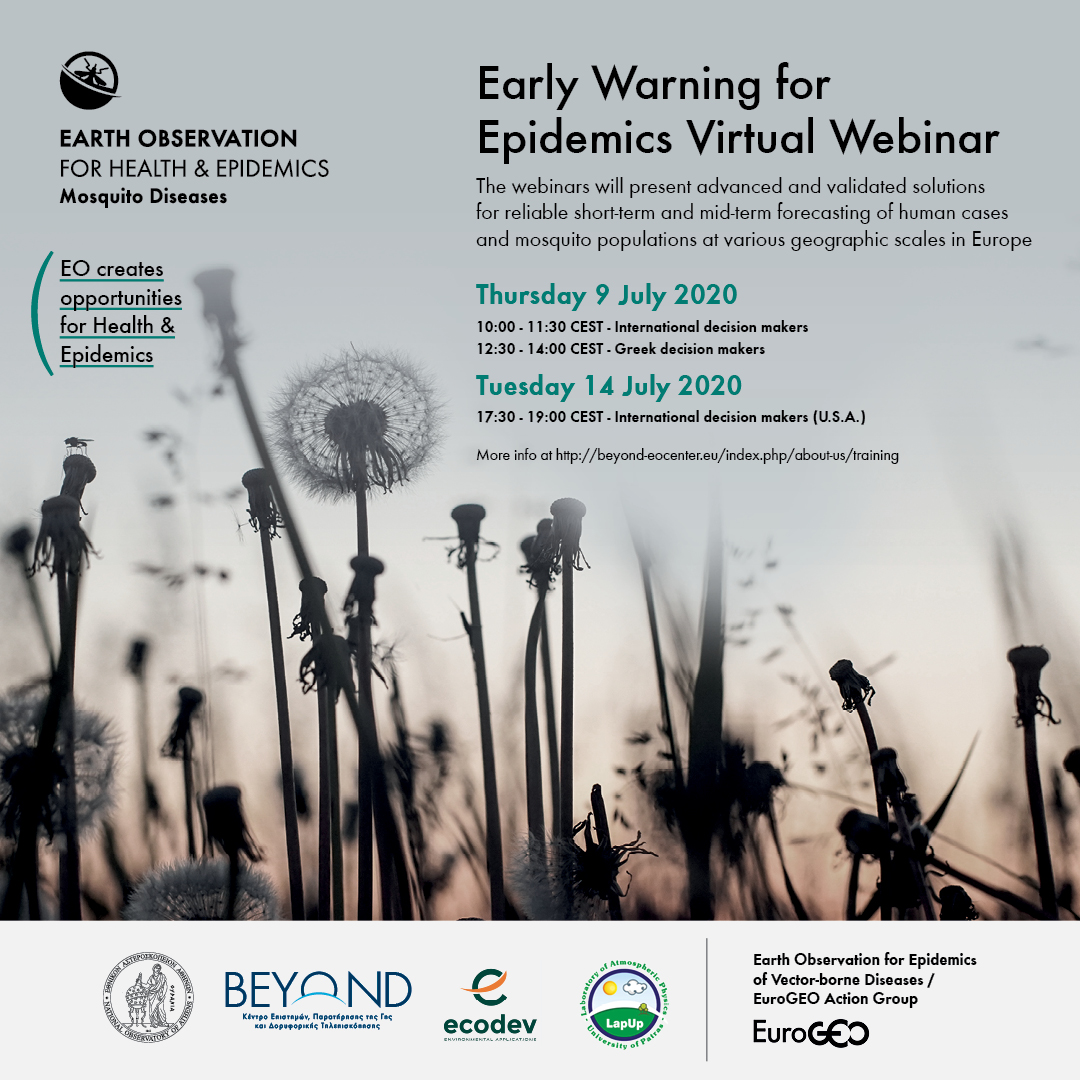 Mosquito-Borne Diseases (MBDs) infect almost 700 million people every year and are recognized in over 100 countries, causing millions of deaths annually. The changing climatic and ecological conditions, global travel and trade, human behavior, as well as the rapid and unplanned urbanization, are key factors that influence the seasonal and geographic distribution of vectors' population and therefore the transmission of the pathogens, causing the re-emerging and even more emerging of these diseases in countries where they were previously unknown. West Nile Virus (WNV) infection in humans and animals have been recorded in various areas of Greece, during the years 2010-2014 and 2017-2019, but also in other regions in Europe reaching a usually high record in 2018.
The BEYOND Centre of EO Research and Satellite Remote Sensing of the Institute for Astronomy, Astrophysics, Space Applications and Remote Sensing (IAASARS) of the National Observatory of Athens, in collaboration with the leading company in mosquito control and data analytics Ecodevelopment S.A., Laboratory of Atmospheric Physics of the University of Patras - Physics Department, and along with several European organisations from Italy, France, Germany and Serbia, that serve research purposes, perform mosquito control activities, belong to health and decision making sectors, has seized the initiative to develop an Early Warning System for combating the West Nile Virus.
The pivotal role of the system is to inform decision makers, help them improve health system responses, inform citizens and combat mosquitoes, with the prospect of organizing strategic intensifying actions of the entomological and epidemiological surveillance and take preventive measures to curtail the spread of WNV in Europe.
Furthermore, NOA/BEYOND is coordinating the EuroGEO Action Group "Earth Observation for Epidemics of Vector-borne Diseases" which is linked to the GEO 2017-2019 Work Programme, especially with the Community Activities: Earth Observations for Health (EO4HEALTH) which includes vector borne infectious diseases, Copernicus Atmospheric Monitoring Service (CAMS) and Copernicus Climate Change Service (C3S). Our recently launched initiative supports the relevant priorities of the Sustainable Development Goals (SDGs) such as good health and well-being (SDG 3) and climate action (SDG 13).
In this context, we are organising a one-day virtual workshop for "Early Warning for Epidemics" which will take place in July 9th and 14th, 2020.
This workshop aims to reach members of the vector-borne diseases, epidemics communities and decision makers, bring together interdisciplinary teams across the entire value chain, and demonstrate through selected use cases the value provided by the advanced European scientific and technological assets towards the development of robust, reliable, scalable, and replicable system solutions to combat mosquito-borne diseases using EO space technologies and AI. The webinars will present advanced and validated solutions for reliable short-term and mid-term forecasting of human cases and mosquito populations at various geographic scales in Europe.
Please confirm your participation at This email address is being protected from spambots. You need JavaScript enabled to view it.
Webinar: Part I - International decision makers, 09/07/2020
| | |
| --- | --- |
| Location | Zoom | To join please click here |
| Date: | 09/07/2020 |
| Time: | 10:00 – 11:30 CEST |
| Facilitator: | NOA |
Agenda items
10:00 – 10:15
Introduction
Speaker: Harris Kontoes (NOA)
10:15 - 10:30
EO for Epidemics of mosquito-borne diseases
Speaker: Elisavet Parselia (NOA)
10:30 - 10:45
Spatio-temporal ensemble prediction system of WNV dynamics
Speaker: Ioannis Kioutsioukis (UPA)
10:45 - 11:00
"Data-driven modeling for WNV mitigation"
Speaker: Spyros Mourelatos (Ecodev)
11:00 - 11:30
Q&A
Available in Youtube https://www.youtube.com/watch?v=e8kyUfvEKPM